Search for companies
Search for companies in our Nordic database. Here you will find information on about 500,000 companies.

Largest Companies appoints Gold Companies
Each year Largest Companies appoints Gold Companies based on the financial statements of the previous year. A Gold Company is a company that have beaten their own industry in both sales and earnings, has a positive result and has more than five employees. The average is calculated once a year and is based on all companies within the industry concerned. On average, only 20% of the companies in each industry can be awarded the seal. The industry classification is based on codes referring to the European NACE standard*.
* NACE is the industry standard classification system of the European Community.
About the seal
The companies exceeding its industry average is assigned a Gold Company Seal and a Diploma for their good performance. The seal is published on the company's presentation on Largestcompanies.com and it will be visible for almost 100,000 unique visitors per month.
The Gold Company (the industry winner) also has the right to use the seal on its website and in its marketing. In digital publishing to seal must be linked to the company's presentation on Largestcompanies.com. This is to identify the source and visualize the data the award is based on. If the seal is used in print, it is enough to write the source Largestcompanies.com underneath.
The Gold Companies are offered two seal-profiling options: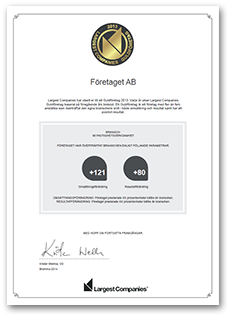 GOLD COMPANY PACKAGE
A seal in the company presentation on Largestcompanies.com
The right to use the seal for own purposes
A priority ranking in the search results
Logotype in the company presentation
SEAL
A seal in the company presentation on Largestcompanies.com
The right to use the seal for own purposes